Hina Khan, who has gained fame in the television industry from Yeh Rishta Kya Kehlata Hai, is making a lot of headlines these days about her movie projects. These days, Hina was busy shooting her film 'Hacked', whose first schedule is now over. Hina Khan has given this information by sharing a picture from the set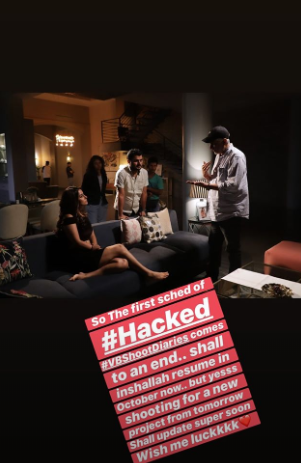 Recently Hina Khan shared a picture from her Instagram account with which she wrote, 'Hacked's first schedule, Vikram Bhatt's shoot diary is about to end now, Inshallah now it will start from October but yes from tomorrow You will get updates of new projects starting soon, Wish Me Luck '.
Hacked is being directed by Director Vikram Bhatt. In this film, Hina Khan is playing the role of a fashion editor, who is followed by a young boy Rohan Shah on social media. It has been said that Hina Khan is sitting in a black dress and director Vikram is explaining something to her.
These days Hina Khan is engaged in many big projects, recently she shared her look of her Indo Hollywood film 'The World of Blind'. Hina will play the role of a disabled girl in this film. This film, being produced by Rahat Bazhanmi, is the story of a boy who reaches a valley backward from the world. Every person in the valley is blind, and the people here live life quite differently.
Hina Khan has previously worked with Rahat Bazmi in the film 'Lines', which is going to be her Bollywood debut film.